Tompkins Wake reaffirms place on international stage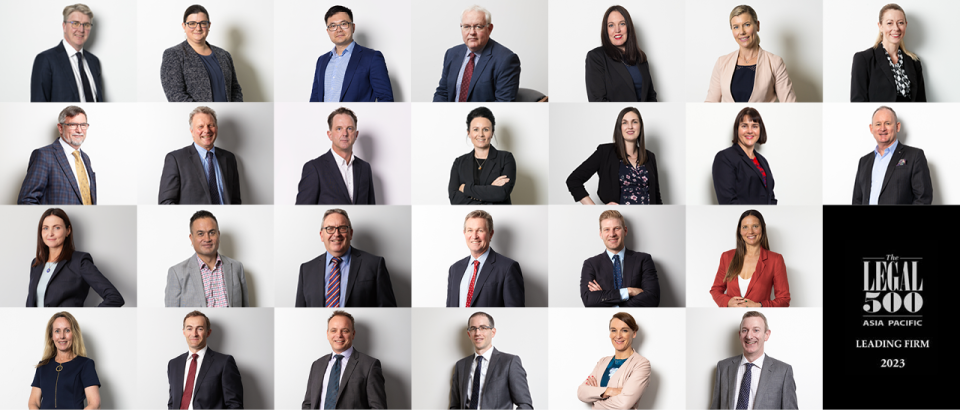 Tompkins Wake reaffirms place on international stage
Tuesday 17 January, 2023
Tompkins Wake's reputation as one of New Zealand's leading law firms has been reaffirmed on the international stage with the firm once again recognised by The Legal 500, one of the world's most prestigious legal publications, as a leading law firm in the Asia Pacific region for the sixth consecutive year.
The firm ranked in six key practice areas in the 2023 edition of the guide: Dispute Resolution, Intellectual Property, Projects and Resources Management (including environment), Real Estate and Construction, and Corporate and M&A, and Labour and Employment.
Furthermore, 26 Tompkins Wake lawyers have been recognised as 'Recommended Lawyers' for their outstanding work and willingness to go the extra mile for their clients.
"One of Tompkins Wakes core values is 'Recognised Excellence' and we are delighted to see our people and practice teams recognised among New Zealand and the Asia Pacific's best. We are incredibly grateful to our clients for their endorsement, support, and trust as we act on the matters most important to them," Tompkins Wake Chief Executive Jon Calder said.
The Legal 500 is an independent, impartial organisation that analyses the capabilities of law firms around the world with a comprehensive research programme revised and updated every year. It assesses the strengths of law firms in more than 150 jurisdictions to highlight the practice teams providing the most cutting edge and innovative advice to corporate counsel.
The commentary provided with each ranking was glowing, highlighting the firm's strengths: "I've had the pleasure in dealing with several of the Partners at Tompkins Wake. They have always been commercially astute, whilst providing clear and well-considered legal advice".
The rankings and recommendations come after another hugely successful year for Tompkins Wake. The firm received its highest number of rankings by elite global directory Chambers and Partners and was named Employer of Choice at the New Zealand Law Awards for the third consecutive year.
"As we celebrate 100 years in business and the reputation and recognition Tompkins Wake has earned as one of New Zealand's best law firms, we are proud of the hard work and dedication of our people that has brought us to where we are today."
To view the full Legal 500 Asia-Pacific 2023 Guide, click here.
Recommended lawyers
Dispute Resolution:
James MacGillivray, Kate Cornegé, Chen Jiang, Fraser Wood, Zandra Wackenier and Stephanie Ambler
Intellectual Property:
Shelley Slade-Gully, Kate Cornegé, Mark Lowndes and Robert Bycroft
Labour and Employment:
Mark Hammond, Karina McLuskie, Daniel Erickson, Fraser Wood and Fiona Dalziel
Projects and Resources Management (including Environment):
Theresa Le Bas and Bridget Parham
Real Estate and Construction:
Scott Ratuki, Peter Duncan, Peter Fanning, Campbell Stewart, Kate Searancke and Catriona Gordon
Corporate and M&A:
Mark Renner, Mark Lowndes, Phil Taylor, Tom Arieli, Kerri Dewe, and Bryce Davey