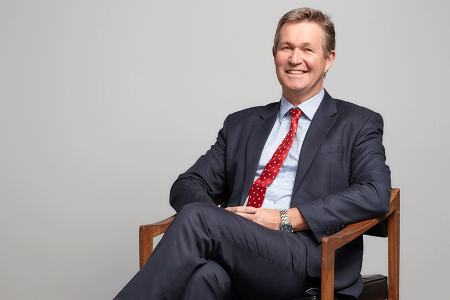 Peter Fanning
Partner
Qualifications : BA, LLB, TEP, University of Otago.

Peter is a property law specialist, with expertise in agribusiness and rural law. Peter has nearly 30 years' experience practicing law across the agriculture and commercial sectors joining Tompkins Wake as partner in 2009. 
Peter is the immediate past chairperson of Tompkins Wake's Board of Partners and is noted as a recommended lawyer in The Legal 500 for Asia Pacific. 
Peter's experience includes acting on large and complex infrastructure, farming and commercial property transactions, developments and land acquisitions.
As one of New Zealand's senior dairy farming lawyers, Peter has an extensive farming practice with clients from the Far North through to Southland. His clients include sharemilkers through to farming operations which produce in excess of 10 million kgs of milk solids. He is actively involved with the formation and management of farming syndicates, equity partnerships (both large and small) and sharemilking arrangements. He has particular expertise in resolving sharemilking disputes. Peter advises farmers upon infrastructural matters effecting them as landowners including acquisitions for public works, access to and the use of water, wind and geothermal power generation and lines reticulation. His rural expertise has been recognised by his peers and he chairs the New Zealand Law Society Rural Transactions Committee.  He is an organiser of various Succession and Farming Law Conferences (both national and regional) and has convened the NZ LAW Rural Law Special Interest Group.
Peter is passionate about New Zealand agriculture and spends time ensuring he is up with the latest industry developments. 
Peter is a senior trust lawyer who co-authored NZLS's submissions on the Trust Bill currently before Parliament. A significant part of Peter's practice also specialises in personal asset planning for Tompkins Wakes private clients. Peter is a qualified practitioner and member of the Society of Trust and Estate Practitioners, the worldwide professional association for those advising families across generations. Peter enjoys building long term relationships with clients, assisting them to develop, grow and manage their businesses and assets.
Before joining Tompkins Wake, Peter previously spent 13 years in Taupo during which he acted for a wide range of Māori clients and entities including Ahu Whenua Trusts, Māori Incorporations and Assembled Māori owners with various appearances in the Māori Land Court. Work included advising in respect of the Te Ture Whenua Act, forestry, farming (both pastoral and dairying), power generation and ownership structuring with national and international generation entities, long-term leasing and sale arrangements, constitutional and trust advice.
Larger clients included Tauhara North No 2 Trust, Opawa Rangitoto 2C Incorporated, Opepe Farm Trust and Whenuatupu-Ohinemoa Trust. Peter continues to act for a number of Māori organisations and is currently involved with various matters for Whenuatupu Ohinemoa and providing advice on the Waituhi Forest Hapu Cluster Trust structure (being the ultimate recipients of the CNI Crown forestry interests settled as a result of the CNI Forest Claim).
Areas of expertise
Agribusiness Transactions

Agribusiness - Structuring

Charities and Incorporated Societies

Commercial Property Transactions

Large Scale Development

Rural Property

Succession Planning

Trusts and Asset Protection

Wills and Estate Planning

Subdivisions and Property Development

Asset Restructuring
Other Credentials
Past Chairman, Tompkins Wake Board of Partners
Trustee MESH Sculpture Hamilton
New Zealand Law Society Property Section, Treasurer
New Zealand Law Society Rural Law Committee
TEP, Society of Trust and Estate Planners
New Zealand Law Society Rural Transactions Committee, Chairman
New Zealand Law Society Transactions Committee (Property)
New Zealand Law Society Rural Law Conference, Co-organiser
New Zealand Law Society Property Law Conference, Co-organiser
New Zealand Law Society Rural Succession Conference, Co-organiser
NZ Law Ltd, Director
NZ Law Financial Planning Limited, Director
Rural Special Interest Group - NZ Law, Convener 
Recommended Lawyer, Real Estate and Construction, The Legal 500 Asia Pacific 2020, 2021, 2022 and 2023


Experience
Staggered acquisitions of land from SOE for a significant strategic roading project valued in excess of $100m.
Variation of power generators interests protecting geothermal resource.
Major commercial subdivisions of significant value.
Providing advice in respect of Central North Island electricity project valued in excess of $100m.
Syndication of various farming interests.
Rural leasing and profit a prendre work.
Providing general property advice to one of New Zealand's large private dairy farming groups and one of New Zealand's largest Kiwifruit producers.