Tompkins Wake awarded Rainbow Tick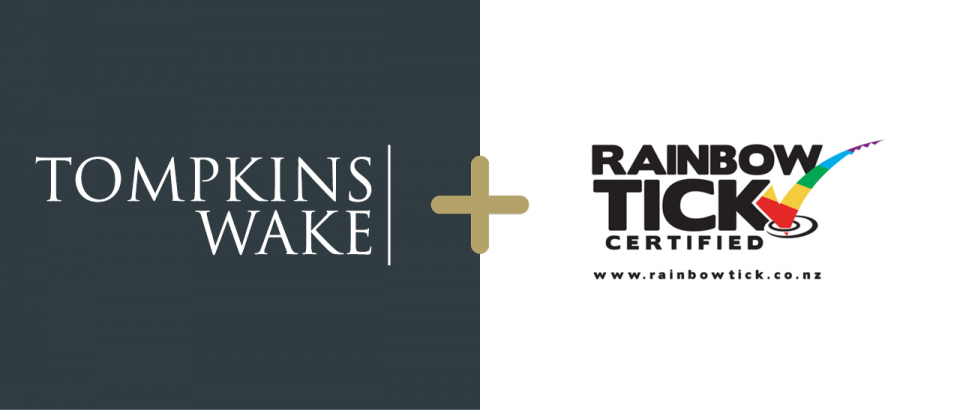 Tompkins Wake awarded Rainbow Tick
Friday 29 March, 2019
Tompkins Wake is the first Waikato law firm to be awarded the Rainbow Tick – a programme designed to help an organisation ensure it's a safe and welcoming workplace for all its employees.
Chief executive Jon Calder said a great deal of work has gone into ensuring that Tompkins Wake is a workplace where staff feel free to be themselves and he acknowledges that's a significant factor in attracting and retaining the best talent.
"Our people are our greatest asset – they are what make our firm," Calder said.
"We see diversity as a strength, and we value the fresh perspectives each member of Tompkins Wake brings. So, it was important to us that we ensure that we address sexual orientation and gender diversity in the workplace, that we're conscious of the implications of being in a marginalised minority."
While the areas of gender balance, ethnicity and ability have been the focus of many diversity and inclusion programmes, the Rainbow Tick addresses that of sexual orientation and gender diversity.
And the programme isn't a one-off assessment exercise; instead it is a continual quality improvement programme that organisations benchmark themselves against each year.
The process involved covered an evaluation of relevant documents and policies and focus groups with staff at Tompkins Wake's four locations.  The data was then assessed and used to generate an evaluation report. The standards against which organisations are evaluated are based on current international best practice.
The Rainbow Tick accreditation was championed at Tompkins Wake by Lindsay Butler, manager people and performance.
"I was thrilled that everyone was really receptive and on board with us going through this process," Butler said.
"Working with the Rainbow Tick team has been an enlightening process and we've all learnt a lot. In fact, thanks to this process we now know there a few areas that we can make some improvements to, so we'll be addressing those over the next few months."
That includes looking at further opportunities for sponsorship that may include LGBTTIQ+ issues or organisations, in addition to the pro-bono work that Tompkins Wake already does which some Rainbow communities benefit from.
The report stated that Tompkins Wake "demonstrates an inclusive and caring attitude to all employees", that there are "supportive Rainbow allies at every level of the organisation" and that it is "excellent to see Rainbow communities specifically mentioned in policies, procedures and monthly reporting".