Tompkins Wake gifts $250,000 to the Waikato Regional Theatre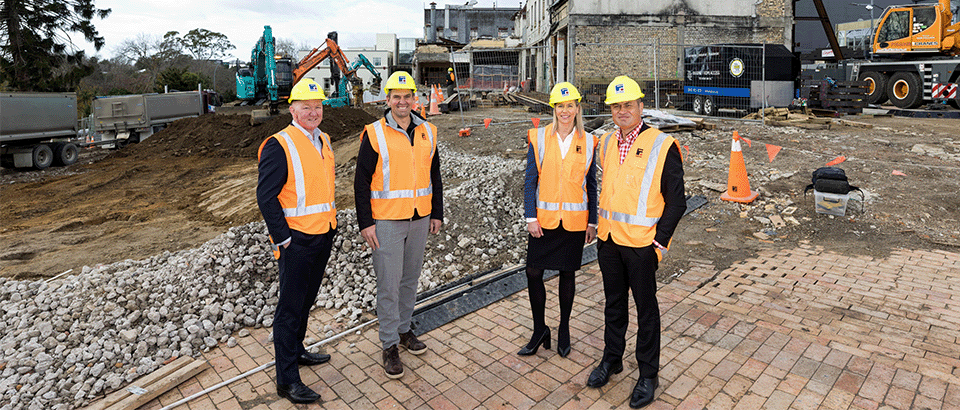 Tompkins Wake gifts $250,000 to the Waikato Regional Theatre
Wednesday 22 June, 2022
Tompkins Wake is gifting $250,000 to support the development of the Waikato Regional Theatre to help boost the region's economy and create a space where culture and communities can thrive.
The announcement comes as the law firm celebrates its 100th birthday this month and recognises the importance of its Waikato heritage.   
Chief Executive Jon Calder says the Waikato Regional Theatre will be a world-class facility and a valuable community asset.
"The Theatre is one of several projects, many being led by other Tompkins Wake clients, that will be the catalyst for transformational change in the heart of Hamilton City.
"We were particularly drawn to Momentum Waikato's 'Share the Stage' vision for the Theatre to give every child the opportunity to perform on the same stage as the best acts from New Zealand and across the globe.
"Tompkins Wake has been a corporate partner to Momentum Waikato since its inception in 2013, providing pro-bono legal services and support. As the foundation works to create a better Waikato for everyone forever, we saw the Theatre project as an opportunity for Tompkins Wake to contribute to and support a transformational project for the city and region."
Jon says the gift is about giving back to the people of the Waikato who have supported the firm over the last century.
"Hamilton and the Waikato region are where Tompkins Wake was founded. It will always be a place of special significance for our firm and our people, past and present.
"While Tompkins Wake is now a leading national law firm, our roots are very much in the Waikato. We are incredibly grateful and privileged to work for so many clients in the region who turn to and trust Tompkins Wake with matters most important to them.
"We are proud to be making this gift to the Theatre today and to be working alongside other generous donors, many of whom are our clients, to make sure we can all enjoy this world-class facility for many generations to come."
Momentum Waikato chief executive Kelvyn Eglinton says the foundation's ability to positively contribute to the wellbeing of those with the greatest needs in our community directly depends on the generosity of its donors and supporters.
"That generosity is not just about financial donations coming from individuals or companies - it is also very much about those who give their personal time, energy and commitment to important charitable causes.
"Momentum Waikato appreciates the support that Tompkins Wake has given to us over the last nine years, and the expertise and care provided by their partners and staff. The firm is an important resource for us, supporting all our activities, particularly during the long and challenging journey to build the new Waikato Regional Theatre."
Kelvyn says the foundation's relationship with Tompkins Wake is deeper than a traditional partnership.
"In today's world, the days of merely transactional relationships, where we just pay for a task, are coming to an end. Meaningful and resilient client-and-business relationships are now about providing value, not just across expertise and products.
"One of the Waikato's most distinguishing features is the networking and openness of businesses and people who want to make a difference in their community. The relationship between Tompkins Wake and Momentum Waikato is an exemplar for how business and philanthropy can work together to make things happen."
Located riverside at the south end of Victoria Street, the Waikato Theatre is a multipurpose performing arts centre with around a 1300-seat auditorium, with circle balconies and flexible staging, able to host drama, kapa haka, orchestral concerts, rock-pop-and-rap gigs, musicals, ballet, opera and community ceremonies.
The project started in August 2021 and is expected to be completed in June 2024.