Tompkins Wake multiple excellence awardee and finalist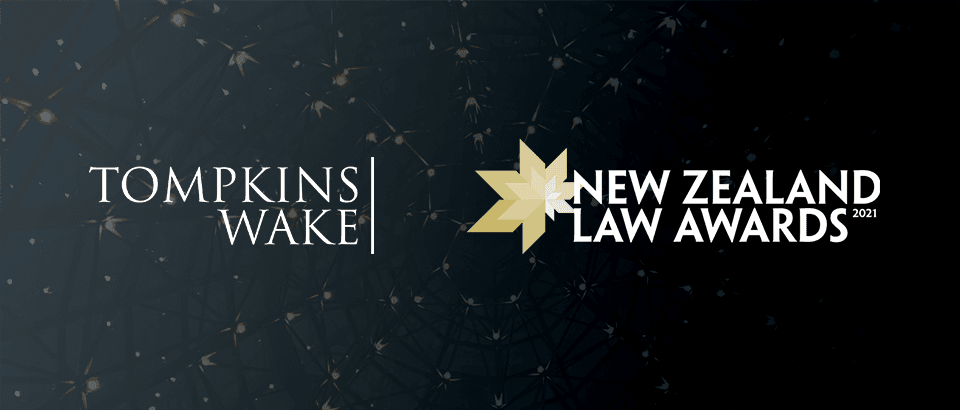 Tompkins Wake multiple excellence awardee and finalist
Thursday 26 August, 2021
Tompkins Wake has been named as a finalist and excellence awardee in four categories in the 2021 New Zealand Law Awards, including the coveted Mid-Size Law Firm of the Year and Employer of Choice.
Chief Executive Jon Calder says "We're again delighted to see the firm nominated in four categories at the NZ Law Awards, recognising the continued excellence of our people and the quality of the work we do for our clients". "Our nomination as Employer of Choice and Law Firm of the Year reinforces our continued investment and effort to build a firm that is a safe, rewarding and enjoyable place for our people to work. Our deal nominations reflect the growing scale and complexity of the work we do as a national law firm."
The firm's award categories and nominations include:
M&A Deal of the Year | WEL Networks & Waipa Networks NZ$854 million sale of Ultrafast Fibre
Insolvency and Restructuring Deal of the Year | Liquidation of Pacific Aerospace Limited assets
Mid-Size Law Firm of the Year
Employer of Choice (51-100 Lawyers)
The annual New Zealand Law Awards, now in its 17th year, has been recognised as the leading independent awards event in the legal profession. Across an array of categories, the awards showcase the leading law firms, in-house teams, individuals and dealmakers that raised the bar over the past year.
Winners will be revealed and celebrated at the awards gala on 18 November 2021 at the Cordis Auckland (Alert Level dependant). For a full list of finalists, click here.