Tompkins Wake double finalist at 2017 New Zealand Law Awards.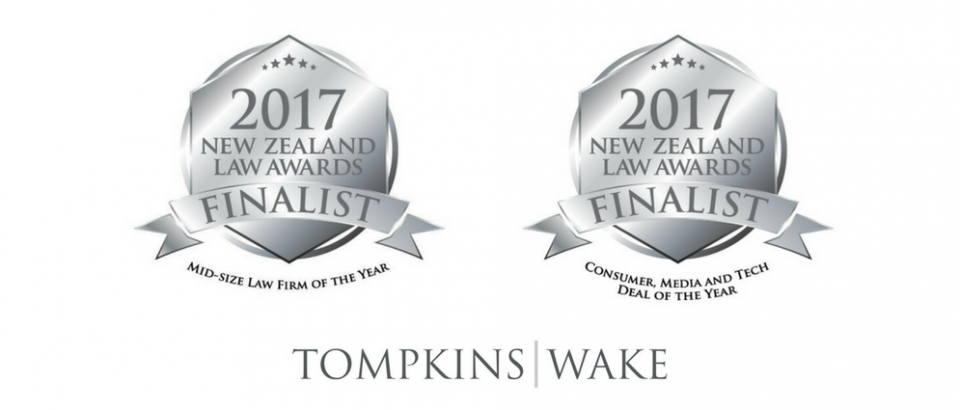 Tompkins Wake double finalist at 2017 New Zealand Law Awards.
Tuesday 5 September, 2017
Tompkins Wake has been shortlisted for two awards at the 2017 New Zealand Law Awards, recognising the firm's continued excellence and reputation.
Nominated for Mid-Size Law Firm of the Year (firms with 6-24 Partners) and also for Consumer, Media and Tech Deal of the Year for their work on Phase two of the Ultra-Fast Broadband Initiative, Tompkins Wake Chief Executive Jon Calder said the firm was honoured to be recognised by the New Zealand Law Awards as a finalist and as one of New Zealand's leading law firms.
Founded in 1922, Tompkins Wake is a leading commercial law firm providing legal services to clients across New Zealand from its offices in Auckland, Hamilton and Rotorua.
Calder said, "Our story over the past decade has been one of continued growth and investment, in building a team of exceptional talent focused on specialisation and expertise. Across the firm and at every level we work to ensure we deliver exceptional service and outcomes for our clients. We are delighted that the quality of our work, our client service and the excellence we deliver in solving our clients complex and sophisticated problems has been recognised with these nominations."
Now in its 13th consecutive year, the New Zealand Law Awards celebrates excellence in the legal industry, recognising outstanding firms, lawyers and in-house teams for their achievements over the past 12 months, as well as the landmark deals that have shaped the business landscape.
The New Zealand Law Awards will be held in Auckland on Thursday 23 November 2017 where the winners will be announced.