Tompkins Wake recognised for its commitment to innovation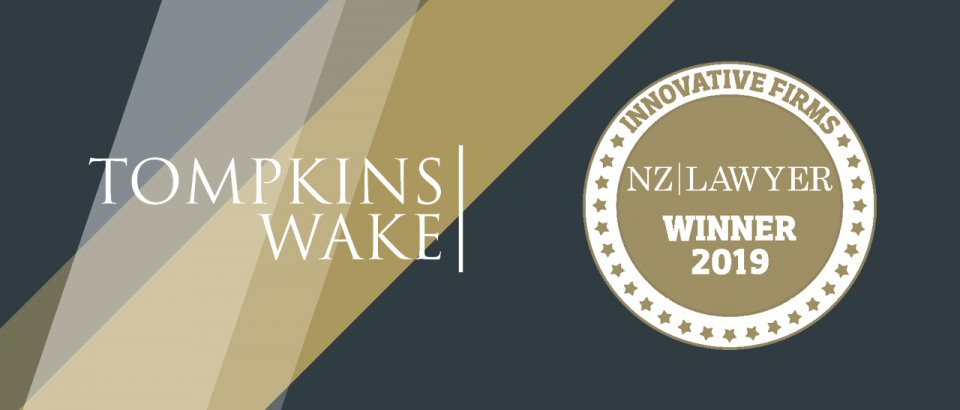 Tompkins Wake recognised for its commitment to innovation
Wednesday 8 May, 2019
Tompkins Wake is one of 15 law firms across the country recognised as being at the forefront of innovation by NZ Lawyer.
The publication made the announcement this week, handing out gongs to firms that it deemed "not afraid to embrace change and drive the legal profession forward".
After a strategy refresh in 2016, Tompkins Wake embarked on program of continuous improvement and innovation. Now considered part of the firm's 'business as usual', innovation encompassing technology, process improvement and learning is driving efficiency and responsiveness in the delivery of legal service to clients.
"The adoption of new technology solutions has increased over the past two years, with new roles introduced to our management and administration structure to support and drive a culture of continuous improvement," said Tompkins Wake chief executive Jon Calder.
Among the new technology solutions it has adopted is legal operations software LawVu. Tompkins Wake was one of the first users of the software which improves communication, visibility, knowledge management and aids information sharing between clients and their lawyers.
Tompkins Wake was an early adopter of Automio, developing client onboarding and recruitment forms in the automated platform, in addition to building Automio Bots to power legal work. And teaming up with Automio has also enabled Tompkins Wake to launch a new service that supports New Zealand SMEs using an AI-powered business health check. 
RedView by RedRain is another legal app the firm identified to enhance the mobility of its lawyers. Partnering with RedRain, Tompkins Wake has co-funded the development of RedView's integration into a commonly used practice management system to provide mobile access to client information, matters and time recording. The next iteration is to bring RedView's client portal app to clients, giving clients mobile access to their active matters and legal documents.
"As one of New Zealand's 15 largest law firms, with more than 100 staff across four offices, we recognise that being responsive, adaptive and predictive to client needs is critical to our continued success," Calder said.
"Our size, structure, scale and market position means we have the ability to evaluate, invest in, support and mobilise innovation – and quickly.
"We've deliberately fostered a culture that embraces continuous improvement to ensure that our people have the right technology and tools to help develop and deliver solutions to the complex and sophisticated outcomes that our clients require."
Areas of innovation covered by this year's innovation winners include new products, service and delivery, business models, processes, marketing and technology.