Tompkins Wake wins at the New Zealand Law Awards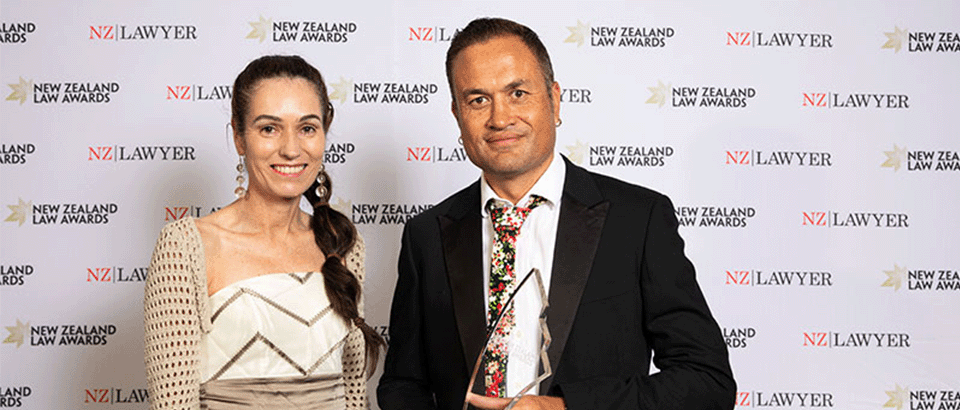 Tompkins Wake wins at the New Zealand Law Awards
Friday 11 November, 2022
Tompkins Wake was named Employer of Choice at the New Zealand Law Awards for the third consecutive year. 
The firm's win was announced at a Gala Dinner at The Cordis in Auckland on Thursday, 10 November surrounded by the who's who of New Zealand's legal industry and some of the country's brightest legal minds. 
The New Zealand Law Awards is about acknowledging legal excellence, recognising the best firms, in-house legal teams, practitioners, and leaders, and celebrating outstanding legal work. 
The Judges said it was the firm's multi-faceted programmes that covered an entire range of needs, including wellbeing, leadership, career development, and work flexibility that put Tompkins Wake ahead of the rest. 
"They really do put their people first and have a very caring attitude. The care they provided during, and post lockdowns was very impressive indeed," the Judges said. 
Chief Executive Jon Calder said: "The win is a testament to the firm's commitment to our people and the vision of the Tompkins Wake partnership to have a firm that puts its people first, always."


"We strive to continually be better than we were yesterday, and that philosophy is led by all the firm's Partnerships."


"Our work in this area will never be complete, and we'll always look for opportunities to make Tompkins Wake the best place to work for every member of our team." 
The firm's recognition did not stop there. 
Tompkins Wake was also recognised as an Excellence Awardee for Large Law Firm of the Year, after seeing significant growth over the last two years. 
This is the first time Tompkins Wake has sat under the Large Law Firm category, and Calder is incredibly proud to see the firm recognised as one of New Zealand's top contenders. 
"The firm's growth over the past two years has exceeded 40 percent, making Tompkins Wake one of New Zealand's largest law firms. 
"To be recognised as an Excellence Awardee in our first year of nomination in this category is huge for us." 
The firm was also named an Excellence Awardee in three other categories, Insolvency and Restructuring Deal of the Year, Managing Partner of the Year, and Young Private Practice Lawyer of the Year.  
Tompkins Wake Chair Scott Ratuki said the firm was immensely proud to see Senior Associate Tina Liu and Chief Executive Jon Calder recognised in their individual categories. 
Liu is the first Tompkins Wake lawyer to become a finalist in the Young Private Practice category with Judges saying it's an extremely competitive award that recognises emerging leaders in the profession. 
"Tina and Jon are both talented and dedicated individuals who, in their respective roles, continuously provide exceptional outcomes for our firm and its clients," Ratuki said.  
"Their status as finalists highlights the high calibre of staff, we are so very fortunate to have at Tompkins Wake."