Tompkins Wake announces three senior promotions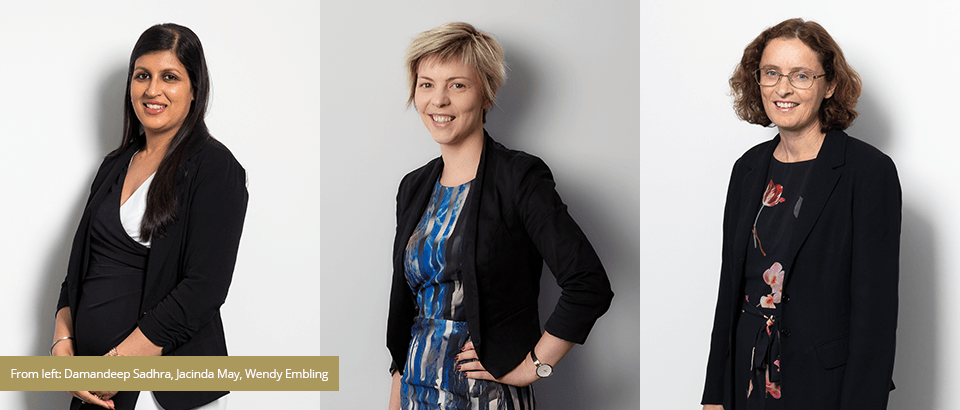 Tompkins Wake announces three senior promotions
Thursday 27 May, 2021
Tompkins Wake is pleased to announce the promotion of three legal specialists across our Auckland and Hamilton offices. Damandeep Sadhra, Jacinda May and Wendy Embling have been promoted to Senior Associate within our dispute resolution, commercial property and environmental and resource management practice teams. 
"We are delighted to see Damandeep, Jacinda and Wendy progress their careers within the firm, recognising the confidence and faith that the Partnership, and our clients, place in these three individuals," said Tompkins Wake Chief Executive Jon Calder. "In recognising Damandeep, Jacinda and Wendy, their skills and contribution to both the firm and our clients, it's easy to see the Tompkins Wake values of "Stronger Together" and "Recognised Excellence" demonstrated. Each is highly regarded within their respective practice areas and acknowledged as emerging leaders within our firm."
Damandeep joined Tompkins Wake in 2020 as an Associate in our Dispute Resolution team. Damandeep completed her law degree at the University of Waikato in 2010 before going on to complete her Master of Laws, graduating with First Class Honours in 2011. Specialising in family law, Damandeep has a particular interest in relationship property agreements and disputes, contracting out agreements, and protection of personal and property rights matters. Her practice also consists of parenting/guardianship matters, family violence and protection orders, adoption, paternity, dissolution and spousal maintenance.
Jacinda May | Commercial Property, Auckland
Jacinda joined Tompkins Wake in 2015 as a member of our commercial property team. Jacinda works predominantly in our Auckland office but frequently works from our Tauranga and Hamilton offices.  Jacinda specialises in commercial property transactions and works with a wide range of commercial property clients, from developers to investors, to facilitate the disposition and acquisition of property, including due diligence and finance, as well as leasing. Jacinda has worked with a number of Māori trusts in various property transactions, including establishing the appropriate entities for the investment to protect the interest of the trusts.  
Wendy Embling | Environmental and Resource Management, Hamilton
Wendy joined Tompkins Wake in 2020 as an Associate in our environmental and resource management team, bringing more than 10 years of experience in resource management and local government law for both local authority and private sector clients. With a background in top-tier national law firms, Wendy has represented council and corporate clients in plan reviews and resource consent applications before councils and the Environment Court. She regularly assists with managing large teams of expert witnesses, preparing for and attending hearings, and negotiating settlement of complex appeals. She provides advice to local government on a wide range of issues.