Tompkins Wake named a leading law firm in Asia Pacific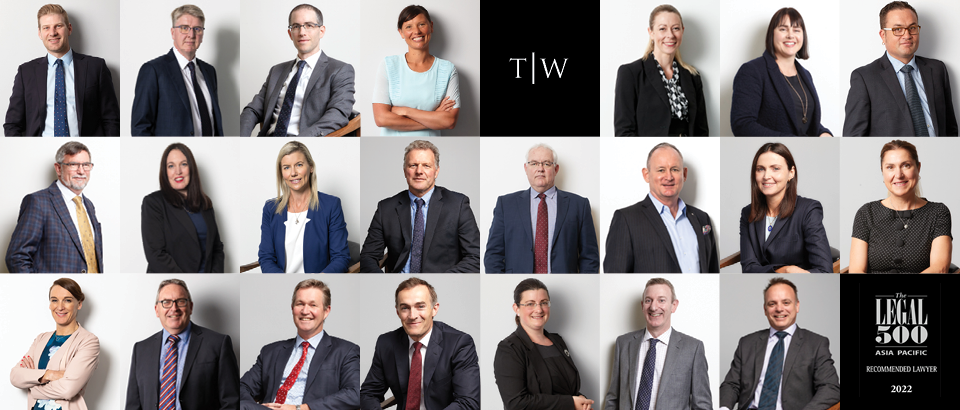 Tompkins Wake named a leading law firm in Asia Pacific
Wednesday 26 January, 2022
Tompkins Wake has been recognised as a leading law firm in the Asia Pacific region for a fifth consecutive year by the independent global directory The Legal 500. The firm is ranked among New Zealand's best in 5 key practice areas in the 2022 edition of the guide, Dispute Resolution, Intellectual Property, Projects and Resources Management (including environment), Real Estate and Construction and Corporate and M&A.
In addition, 22 Tompkins Wake lawyers have been recognised as 'Recommended Lawyers', highlighting their expertise and commitment to exceptional client service and delivery:
Dispute Resolution:
James MacGillivray, Kate Cornege, Stephanie Ambler, Zandra Wackenier, Mark Hammond and Fraser Wood
Intellectual Property:
Shelley Slade-Gully, Robert Bycroft and Mark Lowndes 
Projects and Resources Management (including Environment):
Bridget Parham, Theresa Le Bas and Marianne Mackintosh
Real Estate and Construction:
Scott Ratuki, Peter Duncan, Peter Fanning, Campbell Stewart and Kate Searancke
Corporate and M&A:
Mark Renner, Tom Arieli, Phil Taylor, Kerri Dewe, Mark Lowndes and Bryce Davey


---
Client feedback includes: 
'TW has a variety of experts who we have tapped to provide assistance in many different fields'
'Every matter is assigned to someone who is qualified and experienced in that field and we have been pleased with the outcomes.'
'Partners collaborate well to utilise their individual unique skills for the benefit of clients.'
'Maintaining up-to-date knowledge of new legislative changes in their specific area. Being abreast of potential changes. Providing commercial introductions when appropriate and beneficial for both parties.'
'People don't over-engineer the process. Good quality advice.'


---
The Legal 500 is an independent, impartial organisation that analyses the capabilities of law firms around the world with a comprehensive research programme revised and updated every year. It assesses the strengths of law firms in more than 150 jurisdictions to highlight the leading lawyers and practice teams providing the most cutting-edge and innovative advice.
To view the full Legal 500 Asia-Pacific 2022 Guide, click here.