Tompkins Wake celebrates CEO of the Year at business awards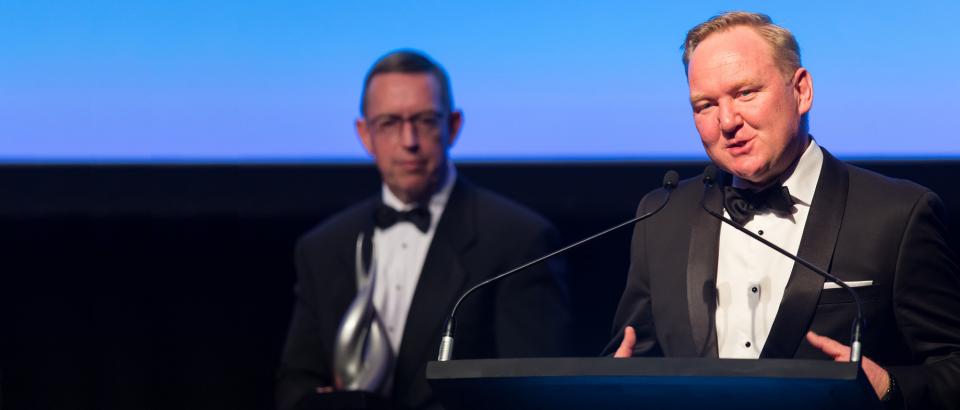 Tompkins Wake celebrates CEO of the Year at business awards
Monday 5 November, 2018
Tompkins Wake's chief executive Jon Calder was named CEO of the Year at the prestigious Westpac Waikato Business Awards on Friday night.
Jon took up the role in January 2016, leading the largest law firm in the North Island outside of Auckland and Wellington. Prior to that he was chief executive of the New Zealand National Fieldays and Mystery Creek Events Centre. 
Judges said: "Jon is an experienced leader with a proven record in leading change, through organisational transformation and process redesign. Jon's passion lies in designing strategy and building organisation-wide capability to execute and deliver a superior level of performance and profitability. His success has been demonstrated through a track record of growing brands and creating sustainable performance improvement to realise value.
"Jon is courageously confident yet humble, grounded and always looking for ways to improve. He has found his own authentic leadership style."
Twenty years ago, Jon was a baggage loader at Hamilton Airport having dropped out of university twice. He has gone on to earn an MBA and has studied at prestigious US universities, Harvard and Stanford.
"I feel incredibly humble to receive this award, joining a long list of distinguished leaders who've previously won it," Jon said.
"I realised early on in my career that when you find something you're truly passionate about, application and success become easier to achieve. I've been privileged to work with some great leaders who've supported and encouraged my growth and development. At Tompkins Wake I am fortunate to lead a great firm, with some exceptionally talented people and a partnership that is committed to achieving excellence through the creation of a great place to work for all our people.
"Leadership is a lifelong lesson and I am grateful to all those in my network who help me learn, listen and continue to be a better leader."
The judges evaluated nominees based on criteria including; the performance of the company that they lead, the extent to which they have contributed to the company's performance, overall leadership qualities, and the esteem in which they are held by peers.
Tompkins Wake board chair and corporate partner Phil Taylor said: "Jon thoroughly deserves to join the distinguished alumni of past winners of this prestigious award. Through his authentic leadership style he has made, and will continue to make, a very significant contribution to our culture and performance, with both short-term and long-term positive impacts".
The gala awards event was held at Claudelands Event Centre and was attended by more than 600 people.
Tompkins Wake has been shortlisted for three awards at the 2018 New Zealand Law Awards, recognising the firm's continued excellence and reputation.
The firm has been nominated for mid-size law firm of the year (firms with 6-23 partners), for mid-market deal of the year for the $67million sale of BBC Technologies to Norwegian-based TOMRA, and for employer of choice (51-100 lawyers).
Founded in 1922, Tompkins Wake provides legal services to clients across New Zealand from its offices in Auckland, Hamilton and Rotorua, with further expansion soon to be announced.
Now in its 14th consecutive year, the New Zealand Law Awards celebrate excellence in the legal industry, recognising outstanding firms, lawyers and in-house teams for their achievements over the past 12 months, as well as the landmark deals which have shaped the business landscape.
Winners of the 2018 New Zealand Law Awards will be announced at an awards ceremony on November 15 in Auckland.