Tompkins Wake appoints three new Partners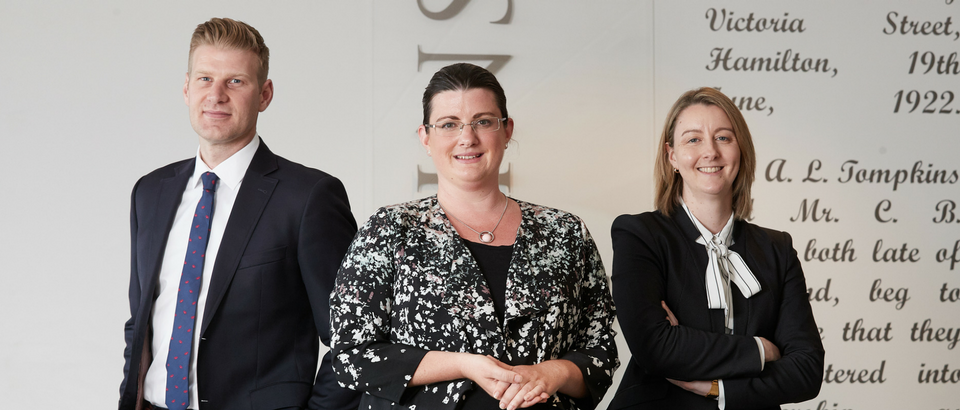 Tompkins Wake appoints three new Partners
Friday 1 December, 2017
Tompkins Wake has appointed three new partners as it continues to grow its high level legal work presence in the North Island and its client following.
Kate Sullivan, Kate Cornegé and Campbell Stewart have been promoted from within the firm, which has offices in Hamilton, Rotorua and Auckland.
Kate Sullivan is a litigator who joined Tompkins Wake in 2011. She specialises in trust law and relationship property, dealing with claims against estates and trust and relationship property disputes.  Experienced in dealing with applications to the High Court for directions, breach of trust issues, claims by beneficiaries and trustee performance, she will work across Tompkins Wake's three offices.   
Kate Cornegé  specialises in general corporate and commercial dispute resolution. She has been with Tompkins Wake since 2010, and has a broad range of experience in commercial disputes, including those involving contractual, competition and consumer, securities, intellectual property and property issues. She has experience in the Supreme Court and has worked across regulated industries, including dairy, energy and telecommunications.
Campbell Stewart joins the partnership team from Tompkins Wake's property and real estate practice. He's been with the firm since 2012 and advises on all aspects of property law, with a specialist focus on agribusiness, commercial property and local government property.  He also has expertise in the overseas investment regime, Crown minerals area and emissions trading scheme, working with New Zealand and international clients in these areas.
Tompkins Wake chief executive Jon Calder says the promotional appointments illustrate the depth of talent the firm has to draw on, which underpins its significant growth.