Tompkins Wake adds three new partners in record promotions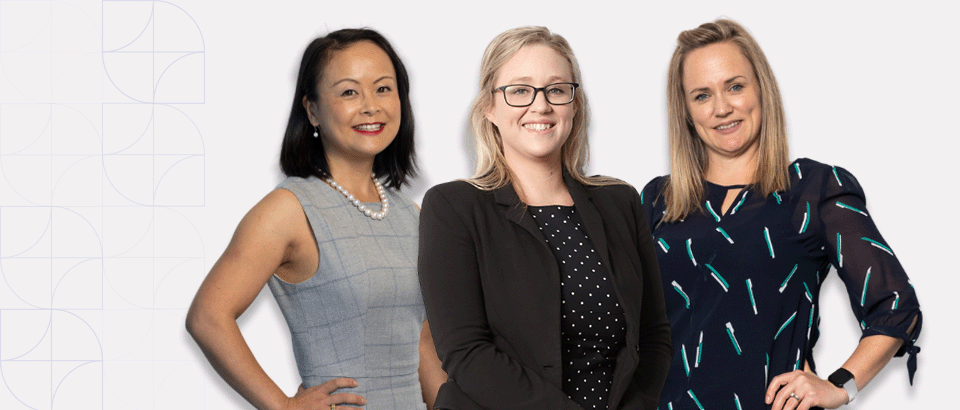 Tompkins Wake adds three new partners in record promotions
Tuesday 11 April, 2023
Tompkins Wake is delighted to announce a record number of promotions including the appointment of three new partners: Tina Liu, Gemma Bodle and Jasmine Findlater.
Tina Liu's promotion to partnership is the result of years of hard work and dedication, after joining Tompkins Wake in 2014 as a junior solicitor.
Over the years Tina has become an expert on commercial and regulatory matters particularly in the areas of health, life sciences, pharmaceutical, food and beverage and input and export controls, data protection and consumer law.
"She is an indispensable advisor to a number of large multinational corporations. Her professional credentials are strong, but more importantly she is a person who demonstrates high integrity, sincerity and loyalty and garnering the respect of her clients, colleagues, and peers, "Partner Tom Arieli said.
Jasmine Findlater's leadership and commitment to the Rotorua community and her team made her an ideal fit for partnership.
She started at Tompkins Wake four years ago and has quickly proven her skills and expertise as a property lawyer specialising in complex refinancing and residential transactions, commercial leasing and local government property.  
"Jasmine is a true leader, a very smart lawyer and is totally committed to the Rotorua community and her team. She is going to be an absolute success as a new partner for Tompkins Wake in Rotorua," Partner Peter Duncan said.
Gemma Bodle is an example of talent growing within the firm, starting at Tompkins Wake in 2008 as a graduate. She completed four years with the firm before spending two years in-house with a major bank in Australia.
After returning to Tompkins Wake in 2015, she quickly became known for her work ethic, commercial advice, and ability to guide clients on complex matters relating to trusts, developments, and subdivisions.
"Gemma has an amazing work ethic and her ability to relate to and work comfortably with clients is a key strength. She understands what is important and is able to cut through complexity and develop solutions," Duncan said.
CEO Jon Calder expressed his delight and congratulations to the three new partners and the 13 TW lawyers who have been promoted.
"We have an incredible depth of talent within the firm and as a firm we are proud to be promoting 16 of our people on merit, recognising their skill and competency in delivering for our clients in addition to being great colleagues."
With the addition of three new partners, Tompkins Wake's partnership now stands at 30 (16 male, 14 female) with the firm's lawyers numbers well past 100.
      Author promotions
Ellie McNicholas - promoted to Senior Solicitor
Jo Lofroth – promoted to Associate
Sarah-Louise Tapsell - promoted to Associate
Ed Kinloch - promoted to Senior Associate
Kahlia Goss - promoted to Senior Solicitor
Ronald Chee - promoted to Senior Solicitor
Ania Roznawska – promoted to Senior Solicitor
Brandon Hayes - promoted to Senior Solicitor
Katie Mills - promoted to Associate
Megan Crockett - promoted to Special Counsel
Josh Nyika - promoted to Associate
Grace Walker - promoted to Senior Solicitor
Catharina Chung - promoted to Senior Associate