New Partner driving change for working mothers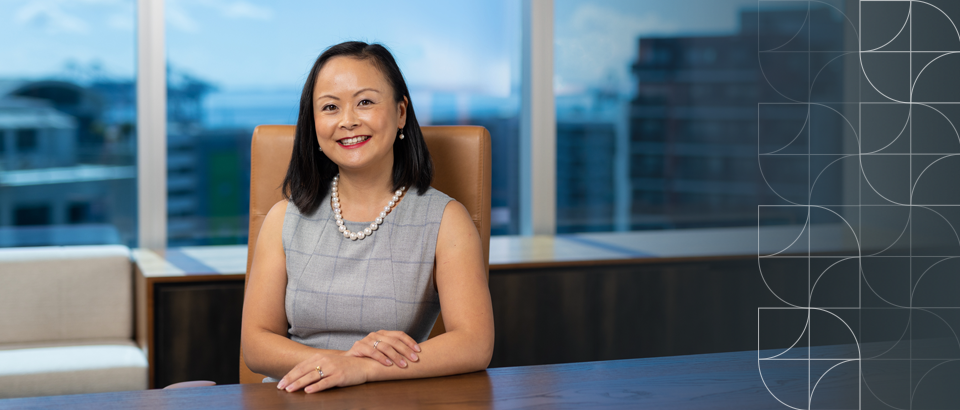 New Partner driving change for working mothers
Friday 28 April, 2023
Tina Liu never intended to become a Partner at Tompkins Wake, but little did she know 8 years later that's exactly where she would find herself.
Liu remembers the moment her mindset changed following a conversation with Tompkins Wake Special Counsel Robert Bycroft (a former Chapman Tripp partner) about her career aspirations.
"I would have been a senior solicitor at the time and about four years into my career and I remember Robert saying to me 'what would make me really proud is if you became a Partner at Tompkins Wake."
At the time, she had other plans to eventually move abroad, but looking back, she sees that conversation as a turning point that made it impossible to leave.
"Robert, and Partners Tom Arieli and Phil Taylor in particular had so much trust and confidence in me and that to me was pure gold, and something I wouldn't get anywhere else but at Tompkins Wake."
Once she made the decision to stay, working towards partnership was a natural next step.
"I've done a lot of growing at Tompkins Wake, professionally and personally. I've put a lot of time into building relationships with many of the senior Partners and clients, who I genuinely respect. It's been an honour to work with them over the years."
Despite receiving a significant number of accolades, including most recently being named a Rising Star by NZ Lawyer and an Excellence Awardee at the NZ Law Awards in 2022 all by the age of 35, Tina says she's most proud of being a working mother.
"It's a completely different ball game when you have young children at home."
Her advice to any mother aspiring to step into a leadership role is to never "take your foot off the pedal".
"I think for all working mothers we should all be proud of the fact that we've come back to work and have been able to juggle a family/work life balance whether that be at a full-time or part-time capacity.
"It's incredibly hard and I am proud that after each maternity leave I've been able to come back and be that much better each year and be promoted each year."
This dedication and hard work has been recognised in the firm's gender representation among Partners and leadership positions and serves as an example that the legal profession has evolved to support mothers pursuing both a career and raising a family, Liu said.
Liu brings drive, energy, and resilience to the team, and is eager to contribute to the firm's growth, by developing a top-tier life science, biotechnology and data protection practice.
"These are areas of practice that I see growing and evolving rapidly. It's incredibly important at both the domestic and international level, and the types of issues that arise spread across the regulatory, commercial and corporate fronts. That presents a real opportunity, and my focus will be on grasping those opportunities with both hands."