Driving innovation at grass roots - the Antahi Story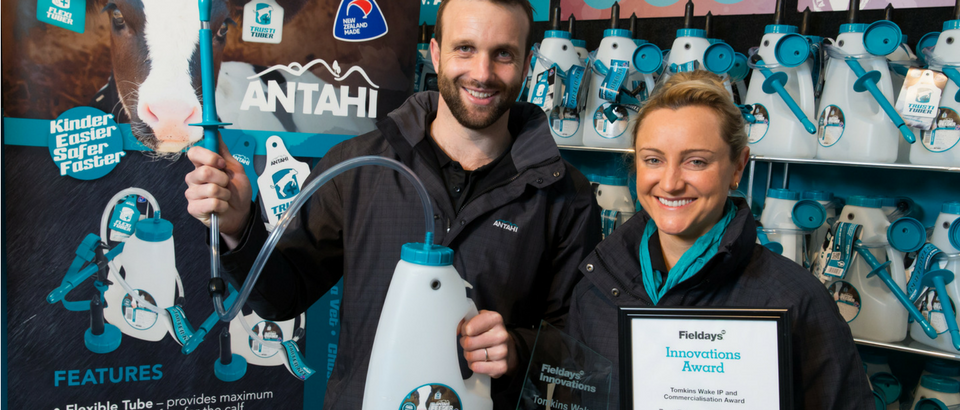 Driving innovation at grass roots - the Antahi Story
Monday 10 April, 2017
Cambridge-based company, Antahi Innovations Ltd, has gone from strength to strength after the launch of its "kinder" calf feeders at last year's NZ Agricultural Fieldays.
Ursula Haywood and husband Mark entered their products, TrustiTuber and FlexiTuber, in the 2016 Fieldays Innovation Awards. They were selected to display their products in the Fieldays Innovations Centre at Mystery Creek Events Centre, where they won a major award. Now, less than one year later, they are winning praise from farmers around the globe, and their products are distributed in 18 countries including the United Kingdom, Europe, the United States, Canada and Japan. "We are really rapt," said Ms Haywood. "We've had great feedback from farmers."
Ms Haywood, a Tirau dairy veterinarian, came up with the idea three years ago through her interactions with farmers during calving season. "There is some unforgiving equipment out there and I thought it could be done better," said Ms Haywood. "As a vet I knew about animal anatomy and I wanted to make a tube feeder that would be more comfortable and safer for the calves." Ms Haywood, who has worked as a vet for more than 10 years, said many farmers told her they disliked tube feeding. The products, which took more than two years to develop, have a flexible tube and easy-swallow safety tip designed to flex around a calf's airway. The FlexiTuber differs from the TrustiTuber in that it has a strap to secure the calf's mouth in the optimum position.
"We see a 90 per cent reduction in behavioural signs of stress in animals when we use our products," said Ms Haywood. "Making the procedure easier on the calves also makes it easier and less unpleasant for farmers, encouraging them to treat sick or weak calves earlier."
Antahi's TrustiTuber and FlexiTuber won the Tompkins Wake IP and Commercialisation Award at last year's event, receiving $5000 in legal advice and support from top Hamilton law firm Tompkins Wake.
Ms Haywood said being involved in the Fieldays Innovation Awards was invaluable for her business, especially the support, mentoring and networking opportunities provided to entrants. "It was the perfect place and timing to launch our products," said Ms Haywood. "The Innovations Centre is a real drawcard for Fieldays' visitors, and a lot of foot traffic comes through. It was a cost-effective way to get a sense from potential customers about the value of the products. It was a real buzz over the whole four days." Last year 130,684 visitors attended Fieldays making it a good opportunity for entrepreneurs to talk to future or potential customers and conduct valuable market research. Fieldays Innovations event manager Gail Hendricks said people who want to enter in this year's awards need to get their entries in soon, as applications close on May 1.
Ms Hendricks said that the Fieldays Innovation Awards has been going for more than 40 years, and the event seeks to celebrate and support New Zealand's most innovative agricultural inventions to lead change in the rural sector.
Successful applicants will be invited to exhibit over four days from 14 to 17 June this year in the Fieldays Innovations Centre at NZ Agricultural Fieldays.
Ms Hendricks said she had room for about 50 applicants, and she was always impressed at the calibre of entrants, who typically came from a range of fields including dairy and dry stock farming, horticulture, information and communication technology, cloud and mobile-based software, animal health and genetics, water and waste management, environment and clean-tech, animal and farm management and farm safety - to name but a few. Vodafone is partnering in the awards again this year. Sponsors include Callaghan Innovation, Crowe Horwath, Enterprise Angels, Locus Research, NZFarmer, Origin IP, Tompkins Wake and Tru-Test. "The support we get from our sponsors is just phenomenal, and so valuable for our innovators and entrepreneurs," said Ms Hendricks. "Award entrants have access to New Zealand's top intellectual property and commercial lawyers, business advisors, product development specialists and innovation consultants. It's pretty amazing."
The three main Innovation Awards categories are the Tru-Test Prototype Innovation of the year (including the grassroots and established companies subcategories), the Fieldays Launch NZ Innovation of the Year (for innovations ready to hit the market) and the Fieldays International Innovation of the Year. Judges consider things such as inventiveness, design and originality, the process of coming up with the innovation, commercial opportunities, intellectual property protection, technical viability and its benefit to New Zealand agriculture.
Other awards up for grabs include the Fieldays Young Inventor of the Year, Vodafone Innovation in Technology Award of the Year, Locus Research Innovation Award, The Crowe Horwath Agri Innovation Award, the Tompkins Wake IP and Commercialisation Award and the Origin Intellectual Property Award.
Ms Hendricks said category winners would receive thousands of dollars in business support and advice, and all entrants would have access to experts during Fieldays thanks to a dedicated space called the Lab. This area, located inside the Innovations Centre, is a hub for award entrants to meet with business advisors, legal experts and product development consultants.
Award entrants will also have a chance to meet potential investors at an invitation-only evening, the Innovations Capital Event, on Thursday June 15. "This is a fantastic opportunity for entrepreneurs to share their ideas with those who have the finances to back them," said Ms Hendricks. "It's a win-win event for everyone, and was a great success last year."
Ms Haywood said she wouldn't hesitate to recommend the Fieldays Innovation Awards to other agricultural entrepreneurs or inventors. "We've been to other agricultural shows around the world and haven't seen anything as well set up as this. To see all the innovations and new ideas in one place, with investors and distributors and business advisors there too, it's just fantastic," said Ms Haywood.