Putting our people first – no matter what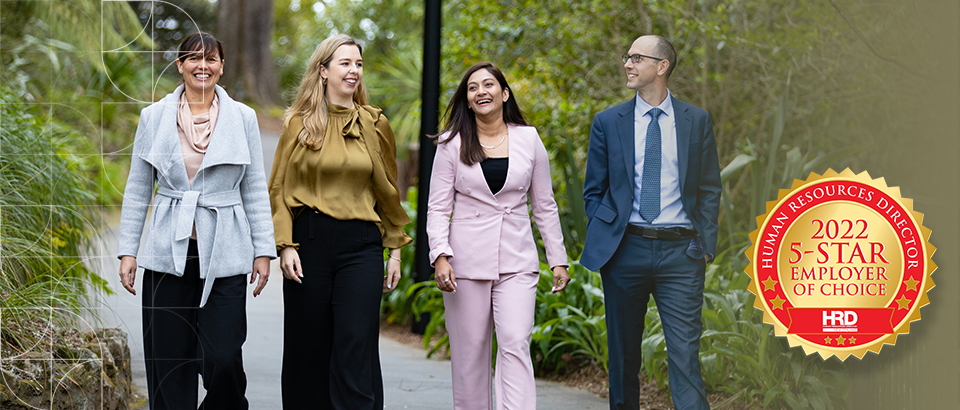 Putting our people first – no matter what
Monday 30 May, 2022
Tompkins Wake's commitment to a 'People Matter' culture has been recognised by HRD New Zealand, naming the firm a New Zealand Employer of Choice.
This month the firm was awarded the honour in the '100-499 employees' category in HRD's 2022 New Zealand 5-star Employer of Choice survey.
"Achieving this honour at a national level alongside some of New Zealand's most prestigious companies is testament to our ability and drive to nurture, adapt and grow our team," says People and Performance Manager Lindsay Butler.
"Our people's backgrounds, cultures, experiences and skills drive fresh thinking, new ideas, unique perspectives and insights. Diversity fuels our culture, and our people are at the centre of everything we do."
With a team of more than 170 spread across Auckland, Hamilton, Rotorua and Tauranga, Tompkins Wake's values-driven culture is something the firm prides itself on. It has held itself accountable to this culture and implemented innovative ways to prioritise health and wellbeing in the workplace - especially over the last 12 months with the added demands of the pandemic.
Giving all staff a monthly contribution towards internet and phone, providing cash vouchers for online ordering if they had Covid-19, hosting nationally acclaimed speakers to support mental health and wellbeing, allowing people extra sick days following their vaccine, and additional leave if they became ill - the firm's range of wellbeing initiatives has been extensive.
"We have continued to adapt and evolve during the pandemic as the needs of our people have changed," says Lindsay. "Our pandemic-related initiatives have all been focused on supporting our people, putting their mental health and wellbeing first and keeping them engaged and motivated. Our initiatives to address wellbeing and provide flexibility have been very well received."
Law can at times be a stressful profession and the firm actively encourages open two-way communication with its team.
"We know we don't always get it right and we are constantly looking at how we can improve and ensure our people have the right support.  Communication is vital, not just the message we deliver but also the way we listen to our people so that they feel they always have someone to talk to. After the March 2020 lockdown we created an additional layer of leadership for our support staff to ensure our people had a go-to person if they needed to chat and wanted support."
Lockdown love
Senior Associate Jacinda May says the Auckland office experienced what felt like continuous lockdowns during the pandemic.
"The firm helped us out by providing us all with at-home computer kits to save time packing up our office at the start of every lockdown. 
"We were also delivered care packages during the August lockdown last year, which was hugely appreciated by the Auckland team after a long time stuck at home."
Like many other businesses, flexible working hours became the norm as we all navigated unknown territory. The Tompkins Wake team frequently joined online meetings from their local park.
Beyond pandemic-related wellness initiatives, Tompkins Wake is supporting its team in other ways too.
Family First
IT Systems Engineer, Ryno Theron says the firm is clear that family comes first, supports professional development, and encourages its people to be successful.
"I have always been grateful for the support from our leadership team. They have always gone the extra mile to be helpful and supportive.
"The firm goes over and above to support its people. I had extra time off when I was unwell and was able to spend more time at home with family after having our baby."
Thriving in a safe & diverse environment
Associate Cheri-Lee Atkinson says she has been impressed by the collective efforts of staff to prioritise wellbeing in the workplace.
"Sure, there is always more to do and improvements to be made. But there is something sincere and refreshing about Tompkins Wake and the firm has acknowledged and accepted that challenge.
"We've enjoyed many amazing wellbeing initiatives in the last two years. Mostly, it's down to the individual champions that were compassionate enough to listen to me, cared enough to encourage me, and brave enough to accept my feedback. With them, I feel I can do my best work and thrive in a safe and diverse environment."
Tompkins Wake has been recognised nationally not only for being innovative, but also for developing and promoting ways to put people first. We will keep going the extra mile to attract and retain the best people.