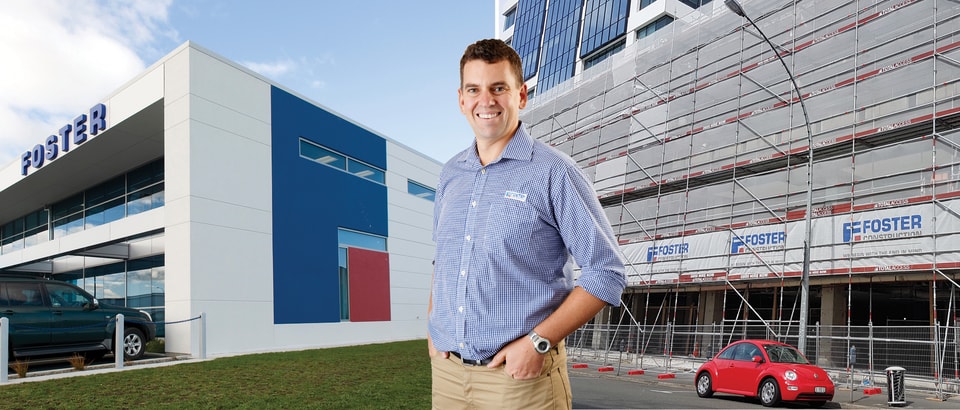 Foster Group
Monday 16 October, 2017
Along with new expressways and a population surge, an unmissable signpost to the Waikato's lively growth has been Foster Construction banners on a swag of new landmarks.
The Waikato born-and-bred commercial and industrial construction and development group has been at the forefront of the pace of regional and Hamilton city economic growth, as evidenced by a 114-plus per cent leap in its annual revenue in three years from $70 million to around $150 million.
Foster's commercial manager, director and shareholder Leonard Gardner says the support of law firm Tompkins Wake in the fast expansion period has been crucial.
"As we've grown we've relied on their expertise and they've delivered.
"I've admired how Tompkins Wake itself has grown, particularly in the past five to 10 years.
"We have a very strong relationship with partner Scott Ratuki and a high level of trust in terms of sharing and taking their advice. And it's not just a matter of them giving us advice - we listen, we bounce ideas around and we all come to a good conclusion."
Gardner says it is a fundamental company belief that balance in business is achieved by gathering around "wise and knowledgeable" people.
"We deal a lot with property transactions and trust Tompkins Wake's judgement on that. Scott is supported by a strong team.
"Understanding things from a risk perspective is really important in our business. While we do construction, a big chunk of what we do is risk mitigation.  We are involved in a lot of commercial things around town. We do lease agreements and put together acquisition deals. Understanding on behalf of our construction clients what the different risks are around costs and time frames and sequencing makes a project successful or not."
Foster Construction Group has built and developed many of Hamilton and the Waikato's most striking and award-winning projects including the Claudelands Events Centre, Deloitte building, Flagstaff's Endeavour School, the Hampton Downs Motorsport Park, the Classic Car Museum, the spectacularly-lit Architectural Profiles building in Te Rapa and the Gallagher Academy of Performing Arts at Waikato University.
Gardner believes the company has done well because of its focus on the community and the relationships established through taking this approach to business. He says the company's purpose is "great community through strong foundations".
"We look after a lot of people, and people tend to look after us. We invest our time and resources trying to create a great community as opposed to making as much money as possible. When our clients use our services, it is actually good for our community.
"When we do a community-type project such as the Claudelands Events Centre, the Verandah at the Hamilton lake, the Meteor Theatre and St Mary's Cathedral, we will go in pretty hard to make sure we are the ones there because they align closely with our brand which is associated with the community."
Foster Construction was founded in 1973 by Graham Foster and Graham Mallett, who had been apprentices for Graham Foster's father Len Foster, who started in business in 1956.
The group employs around 154 full time staff in a range of skills from carpenters to property solution managers.  It currently employs and trains 26 apprentices.
Gardner, a chartered accountant who joined the company in 2003 and the board three years later, says 20 per cent of Foster Group has since early 2017 been owned by Foster Group Custodians Trust,  set up to receive a portion of annual profits to support its community. Scott Ratuki is a trustee alongside Foster Group directors Ross Pacey and Gardner.
Over the years the business has added new development, maintenance and engineering companies to the group. Each subsidiary company has its own general manager.
"We create a lot of projects for our development company as we seek to look after the end users in a whole-of-life approach to property," says Gardner.
"A lot of what we do is partnering with people and working with them to create shared value and great community outcomes."