Gallagher Group - an enduring partnership grown together.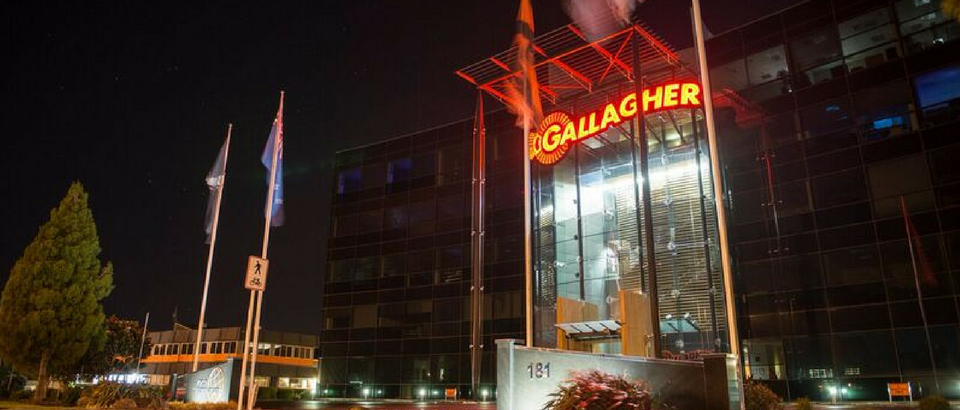 Gallagher Group - an enduring partnership grown together.
Monday 3 April, 2017
Long-time Tompkins Wake client Gallagher Group is as Waikato as it gets. 
Managing to be both a regional economic jewel and global gold for New Zealand Inc., the nearly 80 year old family-owned business is one of less than a handful of Kiwi companies that has built a genuinely globally-recognised brand.
That unmistakable vivid orange brand, with a vintage agricultural tool as its logo centrepiece, ensures no-one forgets Gallagher's origins as a pioneer of agricultural electric fencing, even as the company continues to complement its market-leading technology in this highly competitive global industry with big strides into the human security sector and fuel systems markets around the world.
Chairman and chief executive Sir William Gallagher, son of company founder Bill Gallagher, explains the company's "Orange DNA" in a feature in the foyer of Gallagher Group's sleek black world headquarters on the southern skirts of Hamilton city: "It's in our DNA to discover, design and deliver customer-inspired solutions to redefine what's possible for customers around the world.
"We are customer inspired; we are relentless innovators; we are committed to outstanding quality; we build enduring partnerships."
Today the export reach of a business founded when Bill Gallagher devised an electrical circuit to stop his farm work horse Joe using the family car as a scratching post, extends into Canada, Hong Kong, Australia, India, the Middle East, Indonesia, South Africa, United Kingdom and the United States.
While its success is grounded in innovation around electric fencing and energisers for the pastoral sector and animal management solutions, Gallagher Group has developed world-beating perimeter security systems and technology for building and site access control, including intruder alarm systems for some of the world's most sensitive and top secret security sites such as Buckingham Palace and power stations.  It is also a leader in fuel pump technology and is moving steadily into the fast-developing fuel vapour recovery industry, seizing business opportunities in some of the world's most polluted countries including India and Mexico.   
Gallagher deputy chief executive Steve Tucker joined the company in 1994 when annual revenue was around $40 million and it had a staff of 200.
Today turnover is $250 million and there are 1000 staff on the books.
Tucker says Tompkins Wake has been growing right alongside the Gallagher Group.
"The history between the two firms is a long one. As Gallagher has grown, Tompkins Wake has grown too and put on specialists in all the resources we need."
Tompkins Wake partners have built long relationships with Gallagher leaders which means the lawyers have a deep knowledge of the business, Tucker says.
"That familiarity has practical benefits. We are getting top quality advice locally and we are not constantly being introduced to new partners.
"The fact that our law firm has grown parallel to us allows them to service our growth and all the new complexities that our business has around worldwide operations, more complex banking arrangements, competition issues and staff matters."
Tucker says it's helpful that Tompkins Wake is "well-connected".
Gallagher Deputy CEO Steve Tucker
 "Where something is outside their regime they will help us find the right people but over time less and less things are outside their regime. The other thing I like about Tompkins Wake is their responsiveness. Sometimes I actually have to tell them I don't need this today. If you don't give them a timeline, you tend to get the answer the same day.
"They're really prompt and responsive. They also have a pragmatic approach. If you want an in-depth opinion it's available but if you want a quick opinion, that's available too. There's something about that being able to get that quick informal advice that sometimes you need in law.  There's a feeling in Auckland (law chambers) that everything is charged by six minutes. With Tompkins Wake you feel encouraged to seek their advice."
Tucker also likes that Tompkins Wake partners respect the skills within Gallagher Group.
"A few of us here internally have some skill sets but we are not lawyers. But they are happy to work with that approach, they'll work with us and that comes back to that pragmatism.
"They'll work with us rather than come in and define what is needed and say 'come back in a week and we'll show you what we've done'. There's a willingness to use our skills and theirs to complement each other rather than just come in and take over. You can have lawyers ruin negotiations because they start arguing about things that may never happen."
Tucker says Gallagher's long association with Tompkins Wake is based on relationships and trust.
 "Gallagher is extremely loyal to the community that's helped us be where we are today and whenever we can we use local partners."