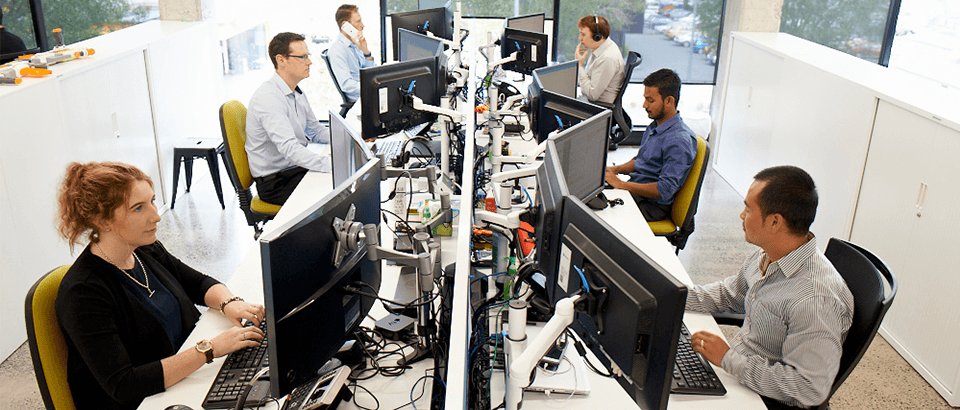 IT Partners Group
Wednesday 26 April, 2017
Business partnerships don't get much closer than that of IT Partners Group and law firm Tompkins Wake.
The two Hamilton-headquartered business support houses have each other's backs.
For many years they've been each other's clients, growing together as they've widened and deepened their respective skills and capabilities to support NZ Inc..
Aside from policing each other's commercial security, they have plenty in common as providers of professional services.  Both are in fast-moving, complex and intellectually demanding commercial fields which require them to be top of their game. Their cultures lean to long-standing client relationships, honing commercial advantage, minimising frustration and disruptions to business, supporting client goals and growth and avoidance of business calamity.
Like Tompkins Wake, IT Partners Group was born and bred in the Waikato, but today is recognised nationally.
The technology management group, which includes the internet service provider Lightwire, was founded 20 years ago in 1997 by Andrew Johnson. He was doing a management studies degree at Waikato University but thought "starting a business looked easier". 
"Tech-minded" rather than an anorak wearer, Johnson started his own venture, in a cupboard-sized office in Hamilton's Barton Street.  Today IT Partners' home is an entire sleek, industrial-chic floor of the South Bloc in Hamilton's Knox Street.
That growth, says Johnson, has been driven by enduring business partnerships, such as the one with Tompkins Wake.
"Things got really busy and I thought why go back to university?", recalls Johnson, today managing director of IT Partners and  Lightwire, which between them employ more than 65 staff in New Zealand and Australia.
Johnson got started in the days when typically there wasn't a personal computer to be seen in an office or there was "one in a corner which people shared". He says the early rush of work came from convincing businesses how computers could be made to work for them and by putting a PC on everyone's desks. That guiding principle of being the first to show a business how technology can help hasn't changed.  
"Businesses don't care about the guts of it, how it works. They just want the result, they want their problems solved," he says. "It's like the Tompkins Wake approach – they want to help me get the result rather than a sole focus on the transactional detail."
IT Partners ticked along, growing nicely beyond the first decade of 2000, counting some of Waikato's household name companies as clients – including some from its very earliest days - until Johnson decided to apply a blowtorch to its growth.
He appointed an independent board of directors to implement a growth strategy with the proviso  "we start to work with the best and becoming more selective about who our clients are".
"That's really paid off. Tompkins Wake is part of that success story in terms of helping grow us to where we are at the moment."
In 2013 the group bought internet service provider Lightwire, a company spun out of the University of Waikato. Since becoming a wholly-owned subsidiary of the IT Partners Group, Lightwire has grown considerably within the Waikato and Bay of Plenty with its rural division and nationwide as well as trans-Tasman for the business segment.
Johnson says Tompkins Wake partners have assisted every step of the way with IT Partners and Lightwire's growth.
"We've had a strategy, we've hired good people and we have great advisors."
"Lightwire has opportunities both nationwide and in Australia. For IT Partners, we see significant growth in the Waikato and in supporting our clients in their expansions, regionally, nationally and internationally. And we support a number of them in their overseas expansions."
The client list of both IT Partners and Tompkins Wake includes many of Waikato's blue chip growth companies, says Johnson.
The help of Tompkins Wake partners' makes a big difference to a growing enterprise like his, he says.
"I've dealt with a lot of professional service firms over my career and what distinguishes the firm is the approach the partners take.
"Tompkins Wake is easy to deal with. They're approachable and call a spade a spade.
"There's no big barrier to me picking up the phone and asking a question and getting good, effective advice. That's really valuable to me to have that resource there on tap so that then I can make an informed decision on whether more work needs to be done on something or not."
"As a growing business, we don't know what we don't know. We need to be able to feel we can ask those questions – especially on things like moving into Australia."
Tompkins Wake has a good understanding of his business, says Johnson.
"They're keen to learn. They have inquiring minds and they're willing to challenge appropriately which is important. If we didn't have them, we'd be hiring services out of Auckland – and we want to grow the talent pool in the Waikato."