Tompkins Wake and Chiefs Rugby - a great partnership on and off the field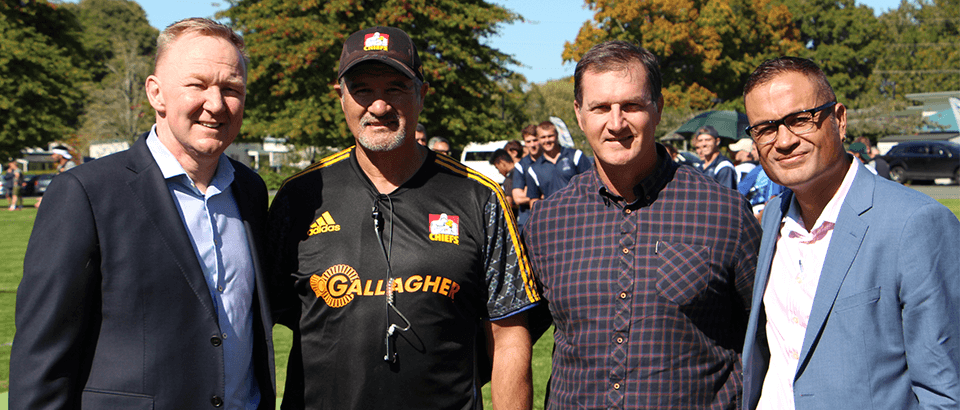 Tompkins Wake and Chiefs Rugby - a great partnership on and off the field
Tuesday 23 April, 2019
Tompkins Wake is more than a proud sponsor of the Chiefs Rugby Club – they have become part of the rugby franchise's family.
These two high performing teams have been working together since 2013­ when then-board chair Dallas Fisher brought Tompkins Wake on board to assist the franchise to become a limited partnership.
The franchise ushered in a new era with a group comprising six provincial unions – Counties Manukau, Bay of Plenty, King Country, Taranaki, Thames Valley and Waikato – along with private investors when they were then granted the NZ Rugby Union licence to operate the Chiefs franchise.

"That was no mean feat… we had to get every partner, every single stakeholder that we all dealt with to acknowledge the change and it was something that had to happen fairly quickly," Chiefs general manager of commercial operations Kate Shirtcliff said.
That relationship initially began with Tompkins Wake because Dallas knew of the firm, having dealt with them with some of the myriad other hats he wears.
"They were people I could trust, and I knew they could get the limited partnership into place and roll that out," Dallas said.
Six years on and Tompkins Wake is very much part of the furniture at the Chiefs' Ruakura headquarters. And that's just how both teams like it.
Partner Scott Ratuki is the relationship partner to the Chiefs. He's their first port of call for any queries or concerns the franchise has. Senior associate Ben Palmer also assists regularly, and chief executive Jon Calder has a close networking relationship with the team. Partner Mark Hammond was a founding Chiefs board member while former Tompkins Wake partner Peter de Luca was the chair of Chiefs board appointments since its inception in 1996.
        
  

                                         

"Tompkins Wake helps us in so many ways and it helps that they understand the unique environment that we operate in," 

Mike Collins, Chief Executive Officer, Chiefs Rugby Club
 "Tompkins Wake helps us in so many ways and it helps that they understand the unique environment that we operate in," said Chiefs chief executive Mike Collins.
"They're part of our crisis management plan, giving us advice in sticky situations. And they provide plenty of general advice and help us solve problems, particularly when it comes to HR matters because we don't have a dedicated HR team here."
"If we've got something evolving we know we can be in touch with Tompkins Wake on a daily basis but even when we don't have huge amounts on, it's generally at least fortnightly that we're in touch with them," Kate said.
And while Tompkins Wake has a close relationship with the management and operations side of the Chiefs, they also have close ties with the players.
The Chiefs are big on player development; they have to do three hours each week on that, whether that's study or looking at where they want to head in the future. That includes understanding legal and financial choices.
"Most of the guys are pretty young and they're being paid very well so we think it's important that they have the right advice about how to manage their money and safeguard themselves for the future," Mike said.
Scott meets up with players and personal development manager Lloyd Elisara to provide advice about wills, trusts, and smart investment decisions.
                                                                                      

"The work they do with the players is invaluable to us as a business."

Kate Shirtcliffe, General Manager, Commercial, Chiefs Rugby Club      

           
"The work they do with the players is invaluable to us as a business. The players aren't employed by us – they're employed by the NZRU – so that adds another layer of complexity," Kate said.
And outside of providing collective advice, Tompkins Wake acts as a resource to individual players – current and former.
That familial relationship extends beyond professional realms.
"Being part of the family is important to both of us," Kate said. "For example, Scott and Jon have come and met the team with their kids and they put in a team recently when we held a golf day for the Chiefs Alumni Trust."
Tompkins Wake is helping the Chiefs to create the Trust and to register that as a charity. It will raise funds for former players and staff who may fall on hard times or want to do professional development after their time on the field has come to an end.
The fact that Tompkins Wake has close ties with so many companies and organisations regionally and nationally is a boon for the Chiefs.
"They work with partners of ours… PwC for example who are our accountants and BNZ who are our banking partner. It makes life a lot easier when we're all on the same page," Kate said.
"We really value the depth and breadth of Tompkins Wake's experience, and that we have access to experts across the firm if the need arises. Associate Jacinda May in Auckland is fantastic to work with," Kate said.
Scott Ratuki said Tompkins Wake valued the relationship with the Chiefs just as much as the Chiefs do with them.
"It's a huge privilege and a pleasure to work with an organisation that prides itself on operating at a level of performance that matches the commitment and effort the team puts in on the field," Scott said.